Audiobooks top row cards
cloudLibrary offers a curated collection of eBooks and eAudiobooks that can be read—or listened to—on personal devices. Check in often!
EBSCOhost Audiobooks is a leading provider of audio versions of classic and non-fiction titles.
hoopla allows users to stream movies, tv shows and audiobooks. APL cardholders living in Aurora can enjoy up to 5 free downloads per month.
Audiobooks
Read with your ears by borrowing one of our audiobooks!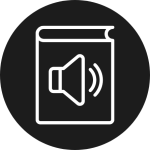 Immerse yourself in stories of the past with these audiobooks on CD.
eAudiobooks
Don't have time to read? Listen to one of the many audiobooks available at APL.